Introduction
Kitesurfing, an adrenaline-pumping blend of wind, water, and skills, has long been associated with adrenaline seekers and water sports enthusiasts.
While this sport has traditionally been male-dominated, there's a growing wave of women who are making their way on the water.
In this blog post, we celebrate the fearless women who are pushing the boundaries of watersports (in this case kitesurfing), shattering stereotypes, and inspiring the next generation of women who want to ride.
Therefore we have surveyed some kitergirls to have a bit of a insight of what is actually like to be a kitesurfer.
A Journey into Kitesurfing
For many women, the journey into kitesurfing begins with a passion for the sea and a desire to conquer the wind.
Whether it's the call of the ocean or the adrenaline of flying, these women have found their motivation to take flight.
One participant of our survey wrote (concerning how they got into kitesurfing)
"While I was backpacking South America, I stayed for a while in Colombia, cabo de la Vela, learning how to do it till I manage to kite. Was the biggest sport challenge I think I had as an adult at that time" Ana Fernández
Another participant wrote us
"I was already windsurfing. Liked it but I was curious about kitesurfing. Liked it now doing both" Floor
This women are driven by the freedom and exhilaration that kitesurfing offers. Some with watersports background and some with nothing but the desire of learning.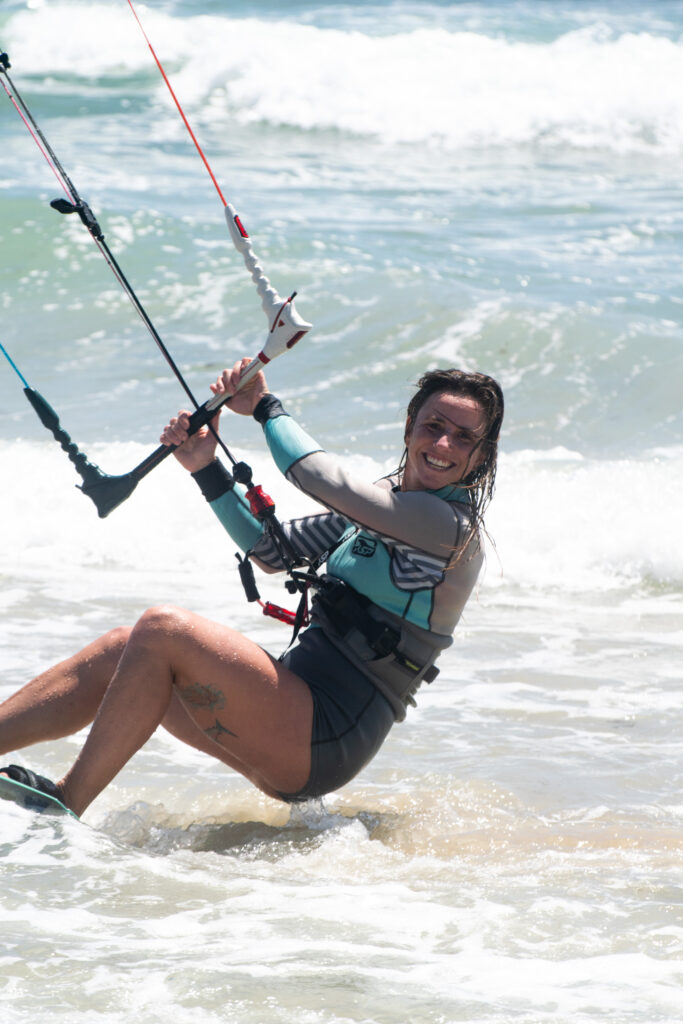 Inclusivity
The world of kitesurfing is evolving, with more women taking up the sport. Female riders are not only pushing their limits but also fostering a sense of community.
They're challenging the stereotypes that suggest kitesurfing is only for the daring and showing that it's a sport for anyone with a love for adventure.
This is what one participant has to say about women in the sport
"Seeing the women on the beach riding solo was a really important source of inspiration to keep going. " Phoebe
Fearless Pioneers
Some women in kitesurfing have become true peioneers when it comes to kitesurfing.
Whether it's conquering challenging waves like Moona Whyte, executing jaw-dropping tricks with crazy wind conditions like Camille Losserand, or breaking records on competitions like Gisela Pulido, these women are proving that kitesurfing knows no gender.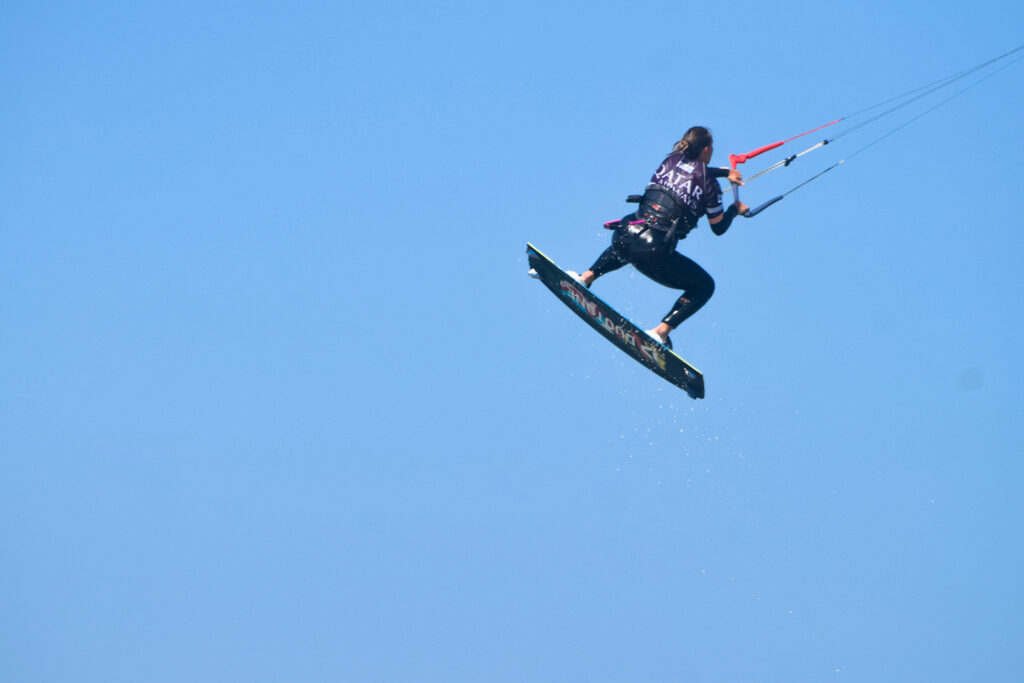 Friendship and Support
Within the kitesurfing community, sisterhood among women riders is flourishing more and more.
They offer each other support, encouragement, and valuable insights that they can only understand.
Together, they're building a network that empowers women to chase their dreams on the water.
And we can see that as more and more women are starting to kitesurf and more kite camps for girls are happening around the world.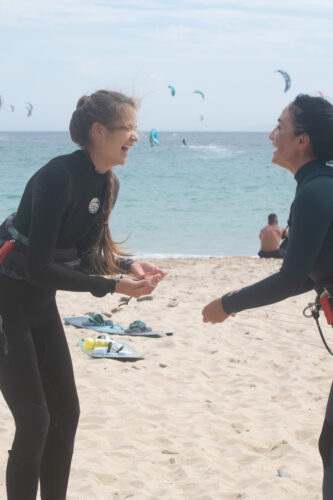 A Source of Empowerment
Kitesurfing isn't just a sport; it's a source of empowerment for many of us.
Women who take up kitesurfing often find themselves gaining confidence, resilience, and a sense of accomplishment.
It's a reminder that they can overcome challenges, both on and off the water.
So we asked our surveyed girls What are some of the biggest challenges you've faced in your kitesurfing journey, and how did you overcome them?
One participant responded
"I had breast cancer when I was 27, so for me my body, post reconstructive surgery, doesn't work as well as it should otherwise would.

Some of that is physical challenges body dragging, some are just mental. I think being sick when I was younger gives me an incredible appreciation of the feeling of freedom and connectivity with nature and the world that I get with kitesurfing – I'm not sure I would have had that otherwise.

I'm also quite small (50kg), and in tarifa when I was just starting to ride independently, I got really overpowered and had to be rescued, but after 45mins of drifting offshore.

This was very scary and impacted my riding afterwards in terms of having a huge impact on my confidence. I don't think that's specifically gendered, but I know more women than men that have had more confidence issues after such an experience." Phoebe
Besides that amazing story of courage and empowerment, other participants answered our question with
"Fear of getting hurt. I just focus as much as I can, be totally present and mentally strong and confident. And this confidence and focus end up influencing other aspects of my life too."

Martha
"My position on the board was for a long time not so good. I was not in balance, lost my board due to small kickers, in soft wind I was not able to keep hight, could not edge enough to controll the speed… I practiced practiced practiced to overcome."

Sonja
The Future of Women in Kitesurfing
The future of women in kitesurfing is promising.
With each beach they conquer and each jump they execute, they're rewriting the narrative of women in watersports
And you can see the progressing mentality some of this women have over the last few years, with some of them commenting on what they feel like improving
"I want to learn strapless / wave surfing. And I want to go to Brazil for the coast downwind."

Morgane
"Starting now with small jumps and want to improve my skills in waves." Sonja
"Mainly progress and improve my skills. Travel and kite all around the world. Maybe work on a project around it." Martha
As they continue to rise to new heights, they inspire all of us to embrace the wind and sail beyond boundaries.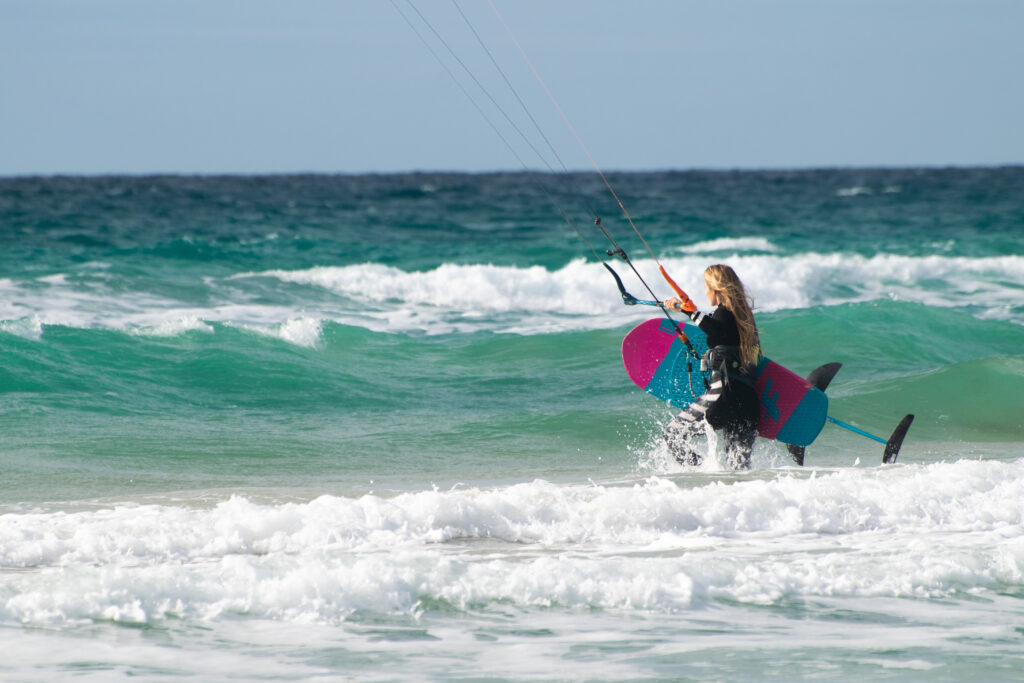 For Future Riders
We asked to our kiter girls – How can women overcome any hesitations or doubts they may have about getting into the sport?
This is what they had to say about it
"Just going for it with will and faith and focused in just having fun and evolving in your own rhythm. Not comparing themselves to others. Inspiring themselves on women who kite. But you really have to want to kite."

Martha
"Is all about techic you dont need to be strong nor in good shape. Is for everyone! I had students of 7 years old and 70! Is not a matter of gender or age, is about actitud and motivation to learn a new activity "

Ana
"Join women in kitesurf communities / Facebook groups. Talk to women who've done before. Find the right teacher / school"

Morgane
Conclusion
Women in kitesurfing are not just riders; they are pioneers, champions, and inspirations. They are redefining what it means to be a kitesurfer and are proving that passion knows no gender.
As they jump through the skies and ride the waves, they encourage us all to chase our dreams and embrace the emotion of riding in the open sea with a kite.
To all women in kitesurfing, we say, "Fly high, and continue to break barriers."
XO