sharing campers experiences
There's an undeniable attraction to the world of kitesurfing.
The wind in your hair, the rush of adrenaline, the connection with nature – it's a lifestyle that can captivate anyone.
For those who choose to start with this exciting journey, kitesurf camps can offer an immersive experience that goes beyond the sport.
We sat down with passionate kitesurf campers to know about their stories, experiences, and the impact these camps have had on their lives.
One common thing among the campers we spoke to was the strong sense of community that forms at a kitesurf camp. "It's like joining a family," says Sarah, a camper.
The shared challenges and wins create strong bonds that stay beyond the camp's duration.
Conversations at the beach, laughter during meals, stress of the first day and the spirit of friendship on the water is what builds friendships that feel like family.
Kitesurf camps aren't just about technique or learning the sport; they become transformative holidays that teaches us life lessons.
Klaus, a kitesurf enthusiast, shares, "It was a amazing experience! I love it! Friendly people. Beautiful beach. Lessons in high quality!"
The camp experience often extends beyond the water, nurturing personal growth, patience, and flow with whatever nature has for us.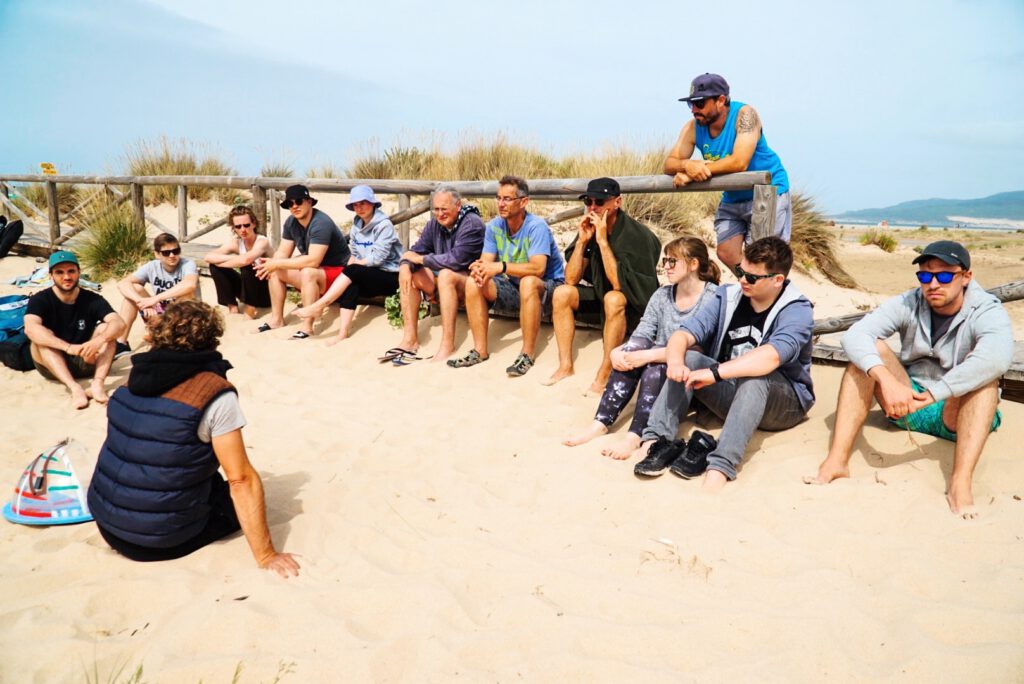 What others can say about our kite camps
We also have some of the testimonials of campers that express their love for the experience
I had the pleasure to be part of Free Your Mind's Kitesurf Camp in October 2022, which took part in Tarifa.
From the get-go the whole team was not only incredibly helpful & friendly, but also eager to create the best experience possible.

As the team is passionate about kitesurfing, the camp is ideal to learn the sport or to improve in it.
From morning to evening one has the chance to practice kitesurfing, with coaches catering to the individual skill/experience level.
Furthermore, the material provided is superb. Consequently, everybody felt in safe hands and made a big step forward.

Also around kitesurfing (e.g. in the evenings or on days without wind) activities are organized that help to improve kitesurfing, or the experience the beautiful landscape or culinary scene. So we have never been bored.

Last but not least, the people made the experience unique. As the whole team and all participants are friendly and open.
Therefore, independently of coming with friends or alone one has an amazing time.

Thank you to the whole team and I will certainly take part again in the future!
I attended the Free Your Mind kitesurfing camp in Tarifa in October 2022.
Already during the booking process, everyone from the team I interacted with was very friendly and open to any questions.

The camp itself was a wonderful experience – despite some days without enough wind.
On those days plenty of alternative activities were planned between which we could choose.
For the lessons, my teacher for most of the time was Gonzalo, who was fantastic! Very invested in the progress of all students and always eager to answer any questions and, most importantly, to make you feel safe and confident out in the water.

The motto "come as a stranger, leave as a friend" may appear cheesy at first, but once you've experienced the overall warmth and support from everyone at Free Your Mind, you will understand.
Always planned ahead
Kitesurfing camp with "Free Your Mind" have been so amazing! FYM has an incredible way of breaking things down so participants can easy understand and always keeping it fun.
Lily was managing things really well and always plan ahead what we are going to do. I would also like to mention Ingo who I think is the best kitesurfing instructor in the whole of Tarifa.
He's so passionate about his job and he will do anything to ensure that you are successful and achieve your goals.
Gonzalo was also amazing and I have learned a lot from him. I would highly recommend these guys and I can't wait to go back and kitesurf with them again!!!
Also accommodation was great and Eli was making amazing breakfast!!! Thank you so much once again and see you soon!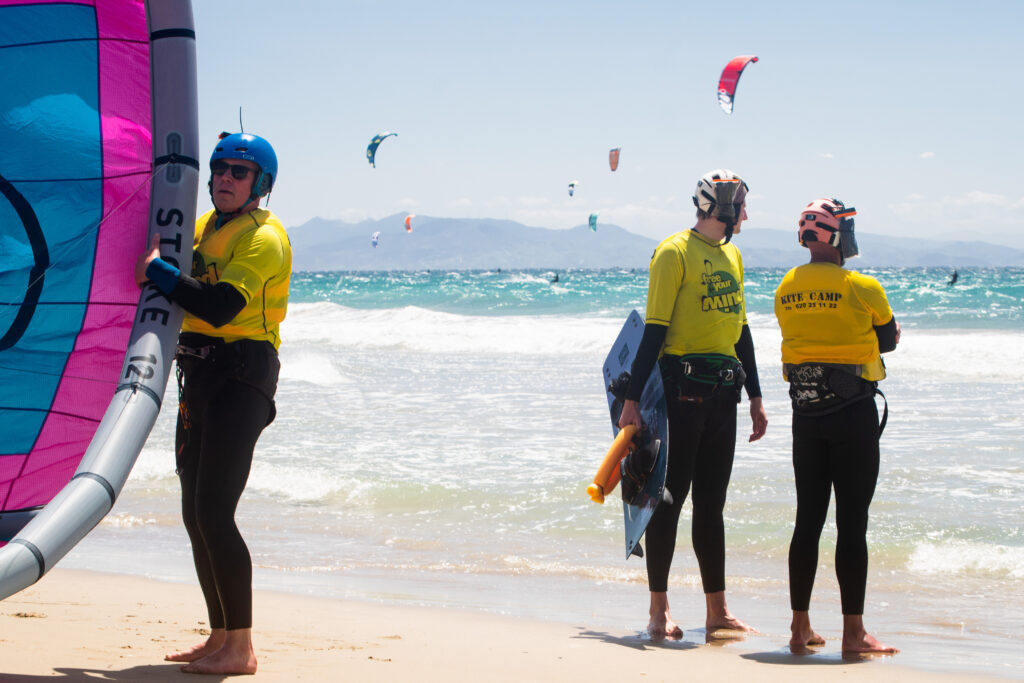 Conversations with kitesurf campers reveal that these experiences are about more than learning to ride.
They're about building friendships, conquering fears, and discovering strengths.
The winds of change blow through kitesurf camps, transforming individuals into confident riders and weaving their stories into the tapestry of the kitesurfing community.
As we bid farewell to our conversations, we're left with a powerful reminder: kitesurf camps are more than a destination – they're a journey of growth, camaraderie, and dreams realized.
If you wish to come to one of our Kite Camps reach out with us
Greetings