The call of the wind sports, the excitement of riding over the water, and the freedom of being in the open sea is what watersports lovers seek the most.
Among these, two sports have been more on the spotlight in recent years: kitesurfing and wingfoiling.
Both offer a unique mix of adrenaline and flow, but they come with different characteristics and challenges.
If you're wondering which of these wind-powered sports is the one for you, this guide will help you make an informed decision.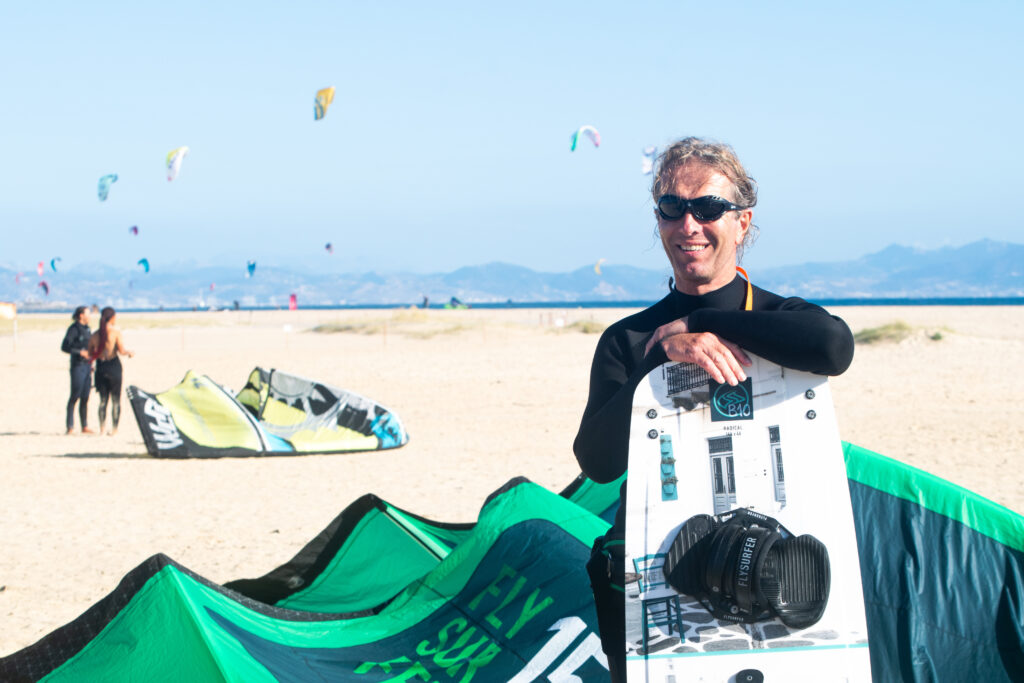 Kitesurfing: Riding the Wind with a Kite
Kitesurfing, also known as kiteboarding, involves riding on a board (twin tip or strapless surfboard) while moving with the power of a kite.
The kite is attached to the rider by a harness and a bar, which is used to take the wind and generate enough power to move you across the water.
Pros of Kitesurfing:
1. Adrenaline: Kitesurfing offers high-speed rides, jumps, and adrenaline-pumping tricks. It's perfect for thrill-seekers.
2. Versatility: You can kitesurf in various conditions, including flatwater and waves, making it adaptable to different environments.
3. Community: Kitesurfing has an amazing global community of riders, providing support for anyone who wants to kite.
4. Skill Progress: There's a big range of tricks and skills to learn, making sure that you can keep progressing.
Cons of Kitesurfing:
1. Learning Curve: Kitesurfing has a steep learning curve, and beginners may face challenges with kite/board/bar control hard to learn at first..
2. Wind Dependency: Kitesurfing is highly dependent on wind conditions, and inconsistent winds can lead to no kiting at all for days.
3. Safety: Potential for accidents and challenging self-rescue situations; mostly with the kite and the lines of the bar.
4. Equipment: A good quality kitesurfing gear can be expensive, and maintaining in good condition is essential for safety.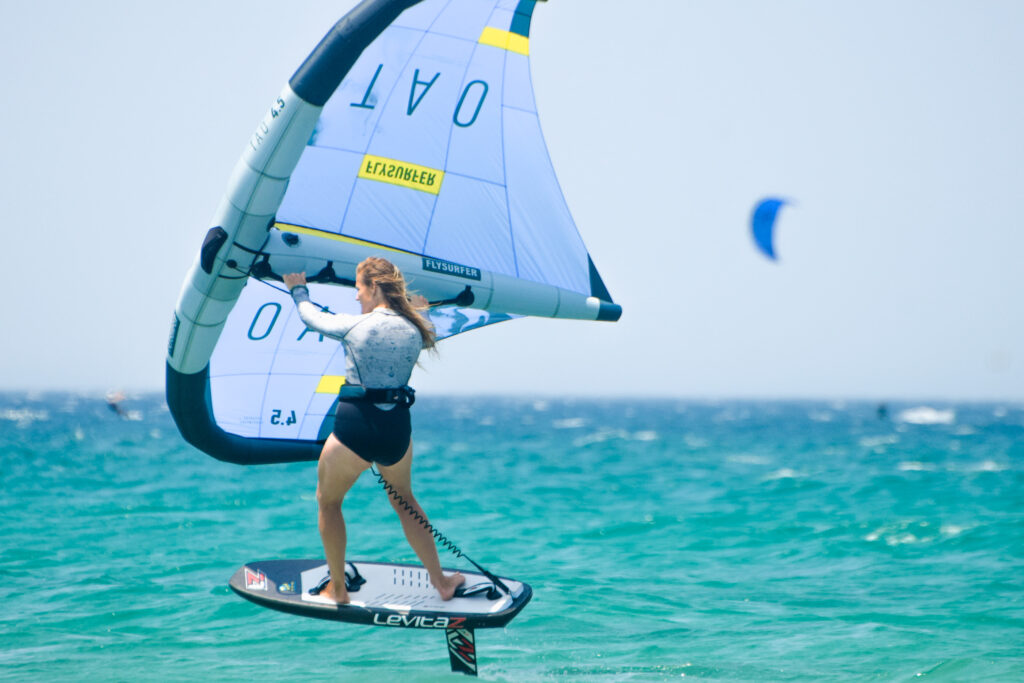 Wingfoiling: Flying Over the Water with Wings
Wingfoiling is a relatively new watersport that involves riding a foilboard while holding onto a wing.
The wing captures the wind's power, pushing the rider across the water's surface to make it feel like its flying.
Pros of Wingfoiling:
1. Freedom of Moment: Wingfoiling offers the sensation of flying over the water. Wingfoil combines the feeling of windsurfing and kitesurfing.
2. Safety: It is way more safe than kitesurfing, as the board floats and you can just let go of the Wing and be free of any danger. The onliest danger could be the foil, but it is quite difficult to fall on it.
3. Full-Body Workout: Wingfoiling engages multiple muscle groups, providing an excellent full-body workout that improves core strength and balance.
4. Fast Learning: Some riders find it easier to pick up, making it accessible to beginners.  
5. Spot options: It is possible to practice Wingfoiling on way more different winds than kitesurfing. The gusts are not as impactful and on many spots in Europe incl. lakes it is allowed. You can even Wingfoil in ports and unaccessible places as its little equipment and changing wind conditions does not matter.
Cons of Wingfoiling:
1. Cost: Acquiring wingfoiling equipment can be expensive, making it a significant investment.
2. Wind Dependency: Like kitesurfing and windsurfing, wingfoiling depends on a good wind condition.
3. Physical Demands: Wingfoiling can be physically demanding, requiring good fitness and energy levels.
Choosing the Right Sport for You
The choice between kitesurfing and wingfoiling ultimately depends on your preferences, experience level, and money..
If you are looking for more of high-speed, adrenaline and are willing to invest time in learning, kitesurfing , this may be your match.
On the other hand, if you want the sensation of flying over the water, be able to do it at most spots incl. gusty ones and lakes and desire a faster learning sport, wingfoiling could be your ideal watersport.
Regardless of your choice, both sports have a unique way to connect you with the wind and water. Giving you moments of excitement and peace at the same time, that only wind-powered sports can give.
So, pick your passion, choose your sport and set yourself for the next wind-water experience.
Its interesting for us, to see more and more women approaching Wingfoiling, stating, that they feel safer, as there are no long lines involved
Any other doubts you might have, contact with us to get Wingfoil or Kitesurf Lessons or just information.
Your Free your Mind team