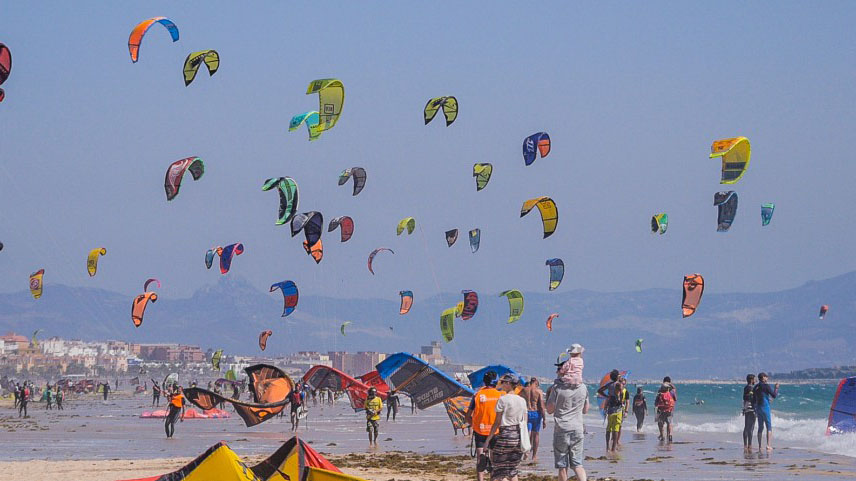 05 Sep

DISCOUNTS ON KITESURFING CLASSES

So you are on your holiday in Tarifa and you come up wondering why basic kitesurfing course can cost 350€ for only 5hours? Then somewhere you see a sign "Cheapest kite lessons" or "-30% off kite courses". The last minute you decide to take that course and you get frustrated and bad impression of kitesurfing. After a day you come back to the kiteschool that cost you 350€ for 5hours but they pay attention to you and provide quality service…. This is a typical situation in Tarifa where you can find more than 100 schools.

If you want to avoid similar situation let us explain why the prices are fixed and you should be careful with cheap kite courses.

3 BASIC STAGES OF STANDARD KITEBOARDING COURSE

1st stage: You will learn the basic theory of wind and hazards on the beach, complete rig up of the equipment and how to use the 3 step safety system.  Then you will try flying a 4-line kite on the beach, launching and landing your kite with a partner, theory of spot guiding and basic safety theory. At the end of this stage you will be able to control the kite and know the important safety topics.

2nd stage: This stage consists of different exercises in the water with a kite: one handed exercises to recover the board, relaunching the kite from the water and body dragging downwind. Also you will learn the theory of the waterstart and how to do self-rescue.  After this stage you will be able to control, relaunch the kite in the water and to recover your board in case you lose it.

3rd stage: At this stage you will do waterstart exercises with the kite and the board, you'll learn right-of-way rules and depending on the conditions, you will be able to ride on both directions.

Right, as a beginner, if you want to complete all 3 stages, the average time you will spend is 9-10 hours in a group lesson. Keep in mind, that conditions can be different, either personal or nature. On this depends your progress and ability to handle this sport independently.
LET'S COUNT YOUR MONEY AND TIME
So there are 3 options for your kiteboarding lesson:
Group lesson: 4 people share 2 kites and 2 boards
Semi-private lesson: 2 people share 1 kite and 1 board
Private lesson: 1 person has 1 kite and 1 board
Let's say that 10 hours cost 300€ in a group lesson. But remember that you will be sharing a kite with another person that means that you will control a kite only 5h or even less.
The typical private class in Europe costs from 55€ to 70€. So now let's do the maths:
Group class: 10h x 30€ =300€
Private class: 5h x 70€ =350€
Yes, there is 50€ difference but also time and type of teaching change. Anyway, what is the difference between them?
In a group class you will learn while watching another person's mistakes and you will save some money. However, it will take more time, you will need to share equipment and attention from your instructor.
With a private class you learn two times faster than in a group class, you will save time and you will get full attention from your instructor. However, you might pay more.
So if you really want to learn kiteboarding take a private lesson if just to try and save some money -take a group lesson.
FACTORS THAT ARE INFLUENCING YOUR LEARNING
So you finally booked your kite course and today you had your first lesson. But… there are many factors that can influence your learning like:
Weather conditions (too strong, not enough wind…)
Water conditions (Big short break, strong current, reef…)
Beach conditions (overcrowded beach, buildings close to the water…)
Instructor experience (not enough knowledge, poor language skills…)
People in your group lesson (slower learning of another person)
FOR WHAT ELSE DO YOU PAY?
There are many things "behind-the-scenes" of your kite course that you don't think about.
Equipment (kites are expensive, easily broken and need to be renewed frequently)
Equipment storage (kite shop or garage to keep safe all equipment can cost up to 300€ a month)
Instructor (even if it looks like a dream job – teaching this sport with so much risk, responsibilities, being all day in the sun and only get an average of 30% from the lesson – makes this job not as easy as it looks from the first sight. If you bought a course with 30% off, then instructor will get 30% off from his wage too.)
Rescue boats (for all lessons that are taught with side-off-shore winds rescue boats are the must, they can cost at least 500€ per month)
Transportation (carrying you and equipment from the city centre to a kite spot)
Insurance (for school, for instructors and for your safety)
Kite school license (depends on the place and can cost up to 2000€ per year)
Administration (how about that lovely lady that you were talking on the phone and booking your classes?)
Marketing (You're reading an article about kiteboarding in Tarifa on your lunch break in Germany. You came back home and tell your family that this summer your holiday will be learning kitesurfing in Spain! Now think twice about this situation, it was really good example of kiteschools' marketing strategy)
Tax (Under European law you also pay 21% VAT for your goods and services)
Shop (most of the kiteschools have their shop where they sell equipment, clothes and meet you for the first time)
WHY YOU SHOULD BE SUSPICIOUS ABOUT THE PRICE?

Great, you just booked a private class that will cost you only 20€ per hour!
Only 20€?? Hmmm… They should be hiding something behind that price. Be careful for the cheap courses and consider couple of things before your booking.
Legality. Every kite school has to have a license. The ones that are not registered are illegal.
Quality. It costs 20€ per hour because you will be in the group of 10 people that share 1 kite?!
Instructors. Maybe your instructor is the person that not long time ago learned kitesurfing and doesn't have a license.
Black money payments. Yes, it is also possible.
OUR RECOMMENDATIONS
As we said before if you want actually to LEARN kitesurfing-take a private class, dedicate time and money for it. After becoming independent rider soon, you will consider buying your own equipment that will be more than 1000€ investment in your happiness. However, if you want just to TRY this fashionable sport, take your best friend and spend all your holiday having fun and learning how to get up on the board.
Besides, if the kite course is with 30% discount, then how they can earn money and pay for 11 "behind-the-scenes" things that we already mentioned? Maybe someone is working for free or just making illegal business? Don't be silly because you will get as much as you pay.
To finish, do you remember learning curve?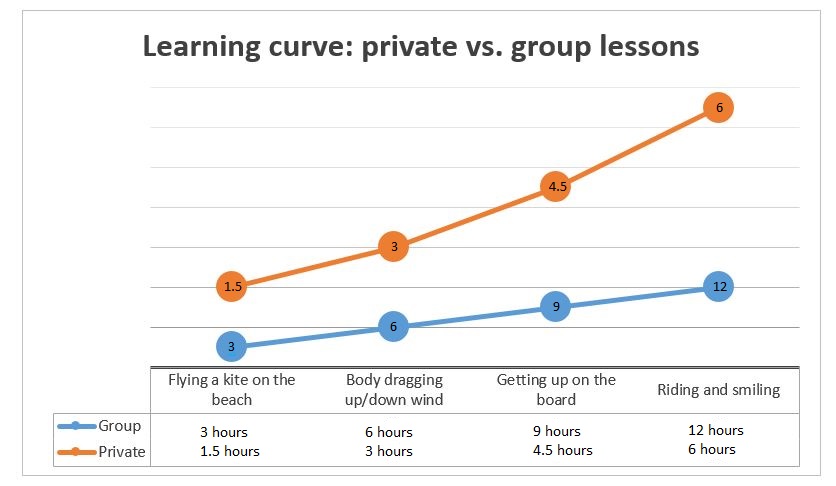 According to Free your Mind knowledge and experience when teaching kitesurfing over 10 years, we created this learning graph and summarised some key points.
We recommend 1.5 hours private lesson a day in order to get your optimal concentration and speed up the learning process.
After 1.5 hours you get tired physically and mentally.
With a private lesson you can learn 2 times faster than in a group class.
Instructor's presence in the water when doing body dragging and water-start exercises can improve your learning.
Contact us today and learn kitesurfing tomorrow!