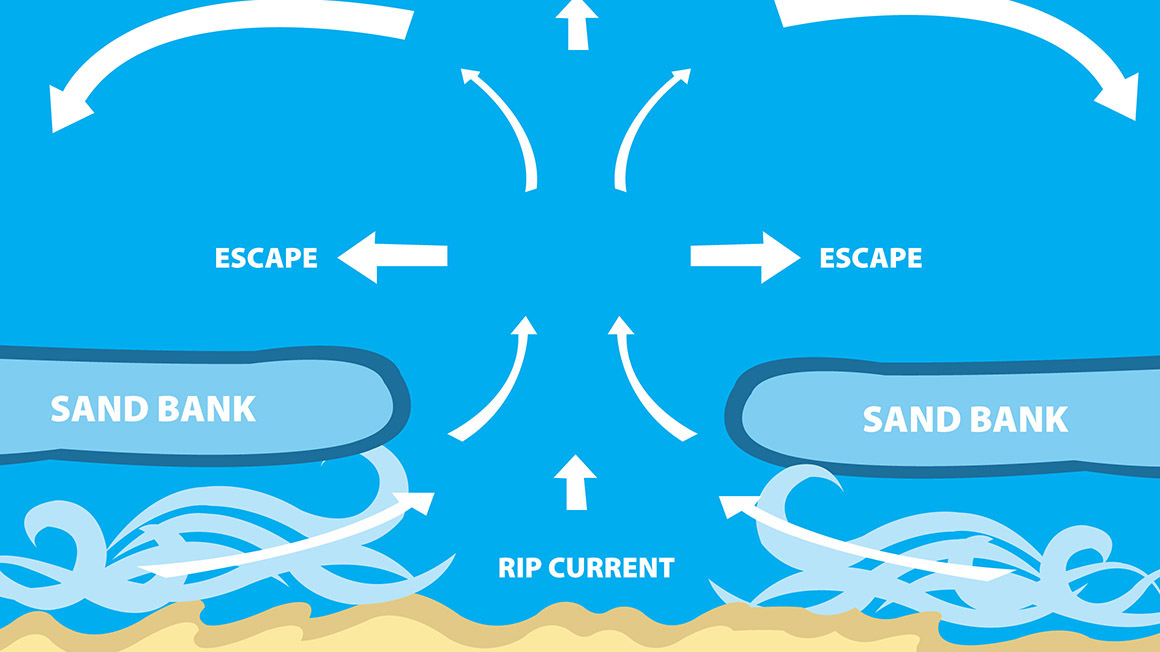 05 Oct

WHY RIP CURRENTS CAN KILL YOU AND HOW TO AVOID THEM !

You probably heard that in spring 2016, two kiteboarders drowned in Tarifa after being dragged out to the ocean by a strong rip current. It wasn't a common kitesurfing accident at all; every surfer or swimmer could have been in the same situation without knowing the basics of safety and knowledge about your spot. It is important to understand why it happened and what to do to prevent similar situations in the future.

Here is a brief explanation of the situation:

That day, two people were kiting in a tidal lagoon at Los Lances beach. The wind dropped, they landed their kites and wanted to cross the river mouth of Rio Jara. Due to the spring tide (new moon) and lots of rain, the lagoon was extremely big. At 17:15 hours the tide changed and the current at the exit of rio Jara was extremely strong towards the sea. When they attempted to cross they were immediately swept into the open sea where 2m waves were rolling. Creating a deadly combination of currents.[/vc_column_text]

If someone is caught by the rip current, the only way is to swim with medium speed PARALLEL to the shoreline until you are out of the current and then you can swim back to the beach.

Due to the lack of knowledge about rip currents we decided to clarify all doubts and questions you may have.
      WHAT IS A RIP CURRENT?
Rip currents are powerful channeled streams of water moving away from a coast. They can be widely found on many beaches every day, including North of Los Lances beach at the river mouth.
Watch this movie of the NOAA's National Ocean Service about rip currents.
      HOW RIP CURRENTS FORM?
Rip currents form when the water flows back to the ocean with a powerful channeled stream of water moving perpendicular to the coast. Rip currents form near the coastline when waves break, concentrating water between the beach and breaking waves.
      HOW TO IDENTIFY A RIP CURRENT?
        When you see a channel of choppy water.
        Watching the difference in the color of the ocean in the same area.
        When you see a line of seaweed or foam moving towards the sea.
        One, all or none of the signs can be visible.

      ARE ALL RIP CURRENTS DANGEROUS?
Rip currents are present on many beaches every day of the year, but usually they are too slow to be dangerous to beach goers. However, under certain wave, tide, and even beach shape conditions rip currents can quickly change and increase to dangerous speeds. As wave height and wave period increase also the speed and strength of a rip current increase.
      CAN YOU USE RIP CURRENTS?
Many experienced surfers use rip currents to pass over the wave zone. However, in order to do this, it takes years of practice and caution must always be taken when "reading" the ocean. So, if you are a beginner surfer you must avoid rip current at all times. Rip current speed always fluctuate and can quickly increase to become dangerous to anyone entering the water.
      WHY RIP CURRENTS ARE DANGEROUS AND CAN KILL THE PEOPLE?
Rip currents are dangerous when swimmers are pulled offshore and are unable to keep themselves floating to swim back to the beach. Typically, it's due to combination of panic, fear, exhaustion or lack of swimming skills. Rip currents can sweep even the greatest swimmer out to sea and are mainly dangerous for weak people and non-swimmers.
      WHAT ELSE YOU SHOULD KNOW ABOUT RIP CURRENTS
        Rip current speeds always vary. Average speeds are 0.3-0.5 m/s, but they have been measured as fast as 2.5 m/s — even       faster than an Olympic swimmer!
        They can be very narrow or more than 50 meters wide.
        Sometimes they will end just outside the line of breaking waves; but, they may continue to pull you hundreds of meters offshore.
        They do not pull you under water—they pull you offshore as mentioned before.
        Do not confuse them for "riptides" or "undertows".  They are different and you can read about the differences between them on the link below.
Read here an article from surfertoday about the differences between rip currents and rip tides.
        Always know how to swim.
        You should never swim alone.
        Look for posted signs and warning flags, which may indicate higher than usual hazards.
        Obey all instructions and orders from lifeguards.
        Be cautious at all times.  Rip currents are present even if you don't see them.
        If in doubt, don't go out!
     9.    IF CAUGHT IN A RIP CURRENT:
Stay calm and don't fight the current.
Escape the current by swimming in a direction following the shoreline. When free of the current, swim at an angle — away      from the current—toward shore.
If you can't escape, float or tread water.
If at any time you feel you will be unable to reach shore, draw attention to yourself: face the shore, call or wave for help.
10.  CAN YOU HELP SOMEONE ELSE?
   Don't become a victim while trying to help someone else! Many people have died trying to rescue rip current victims. Get help from a lifeguard.
   If a lifeguard is not present, shout instructions on how to escape.
   If possible, throw something that floats to the victim.
   Call 112 for further assistance.
Free your Mind puts an extreme importance in giving to our guests, the knowledge and information about the oceans, tides, spots and all that refers to the ocean.
It is so important for your safety and others, and also crucial to be able to enjoy every session, taing the right decisions!
If you want to be safe and get some guiding in Morocco, Tarifa or Sri Lanka, contact us !
Happy kiting and surfing 🙂
[/vc_column][/vc_row]